This Week's United We Stand Summit is Biden's Counter-Extremism in Action
despite the entire industry being a manifestation of anti-Black Islamophobia desperately resting on junk science for legitimacy, Biden swears it can, somehow, address white supremacy.
📝 Monthly Round-Up
We're Historians of Disability. What We Just Found on eBay Horrified Us, Aparna Nair & Kylie M. Smith — "Why are we so fascinated by what is clearly pain and darkness, even knowing that the people who look up at us from the ID cards and the files may well be alive today? At what point is madness and disability just disembodied 'entertainment'?"
The Most Surveilled Place in America, Gaby Del Valle — "Every unauthorized crossing is a justification for more drones in the air and boots on the ground, but none of that will stop people from coming. It just means more migrants are dying."
Outrage Over an Arrest Leads Mosque to Reevaluate Relationship with NYPD, Rebecca Chowdhury — "'In terms of the sheer number of people detained and disappeared, Makki Masjid was the most devastated, and they tried to protect themselves by working with police and cooperating with them.'"
---
skipping the pomp and circumstance, i'm back. with summer dying down (and all of my extra responsibilities with it), i've been thinking of how to bring NAZAR to people's inboxes again. since NAZAR's last post was a rumination on counter-extremism, it's fitting that i return to bitch about the topic again.
on thursday, the Biden administration hosted the United We Stand Summit at the White House to ostensively "counter the corrosive effects of hate-fueled violence on our democracy and public safety." the term "white supremacy" is never explicitly used in the Summit's fact sheet. but its acknowledgement of "a disturbing series of hate-motivated attacks" in Charleston, Pittsburgh, Buffalo suggests that hate-fueled violence is a partial euphemism for white supremacy.
the fact sheet relies heavily on euphemisms. so while it also shies away from explicitly naming counter-extremism, make no mistake: the United We Stand Summit is Biden's counter-extremism in action. sensing this, civil rights organizations, including the Muslim Justice League, the Surveillance Technology Oversight Project, Vigilant Love, and more penned an open letter to Biden ahead of the summit.
"We write to you deeply concerned that the United We Stand summit will continue or expand the harmful counterterrorism framework and initiatives that have furthered white supremacy, particularly the Countering Violent Extremism (CVE) program now named Center for Prevention Programs and Partnerships (CP3) at the Department of Homeland Security," the letter opens. "We oppose this repackaging of a flawed initiative."
The letter continues:
"Equity does not mean applying a debunked and globally criticized model for behavioral policing to all communities; equity means listening to those communities harmed by both these initiatives and white supremacist violence. White supremacist violence should not be shrouded with the vague vocabulary of hatred and extremism. This terminology (e.g. extremist, radicalized, terrorism) has historically justified the policing and surveillance of the communities most impacted by white supremacy."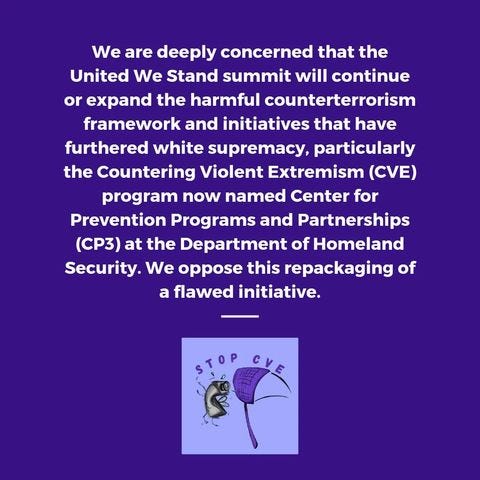 as the letter notes, Biden originally promised to end Trump's Targeted Violence and Terrorism Prevention program. TVTP still exists as a grant program within CP3. but i want to highlight that even within his promise, Biden never rejected counter-extremism as a whole. and so, under Biden, was re-branded as equal opportunity surveillance (CVE is touted as part of the DHS Equity Action Plan, btw). despite the entire industry being a manifestation of anti-Black Islamophobia desperately resting on junk science for legitimacy, it can now, somehow, address white supremacy.
the Summit's ties to counter-extremism don't really require a lot of reading between the lines. under action steps, the Biden administration announced the establishment of the White House Initiative on Hate-Motivated Violence to "strengthen interagency coordination in preventing and responding to hate-motivated violence." most damningly, it also highlighted DHS' distribution of $20 million to TVTP's 2022 grantees.
i know most of NAZAR's readers are aware of the problems with using counter-extremism to address white supremacy. this newsletter is just meant to be an update. i'll probably have more reflections to come. but to wrap shit up, i'm focused on how, disturbingly, the fact sheet brags that, for the first time, TVTP grantees include "two Historically Black Colleges and Universities (HBCUs) and two organizations working in the LGBTQI+ community."
"Working in partnership with one another is how we best prevent acts of terrorism and targeted violence." Secretary of Homeland Security Alejandro N. Mayorkas said in DHS's announcement. "Through the grant awards we are announcing today, we are equipping local communities and organizations — including those historically underserved — with needed resources so they can become more effective partners, strengthen our security, and help the American people feel safe and secure in our daily lives."
don't get it twisted. this type of inclusion is not about building partnerships at all. as the open letter to Biden notes, "CVE programs explicitly operate on the bizarre and unsupported assumption that diversity is suggestive of a national security threat–and that Muslim, immigrant, Black or LGBTQ Americans must be surveilled to keep America safe." so, you know, congrats to DHS's new diversity grantees for playing themselves.
NAZAR is a reader-supported publication. To receive new posts and support my work, consider becoming a free or paid subscriber.