(GUEST) How Agricultural Anti-Blackness Fuels Modern Surveillance
Land has been integral to surveillance because of the freedom that it allows oppressed communities.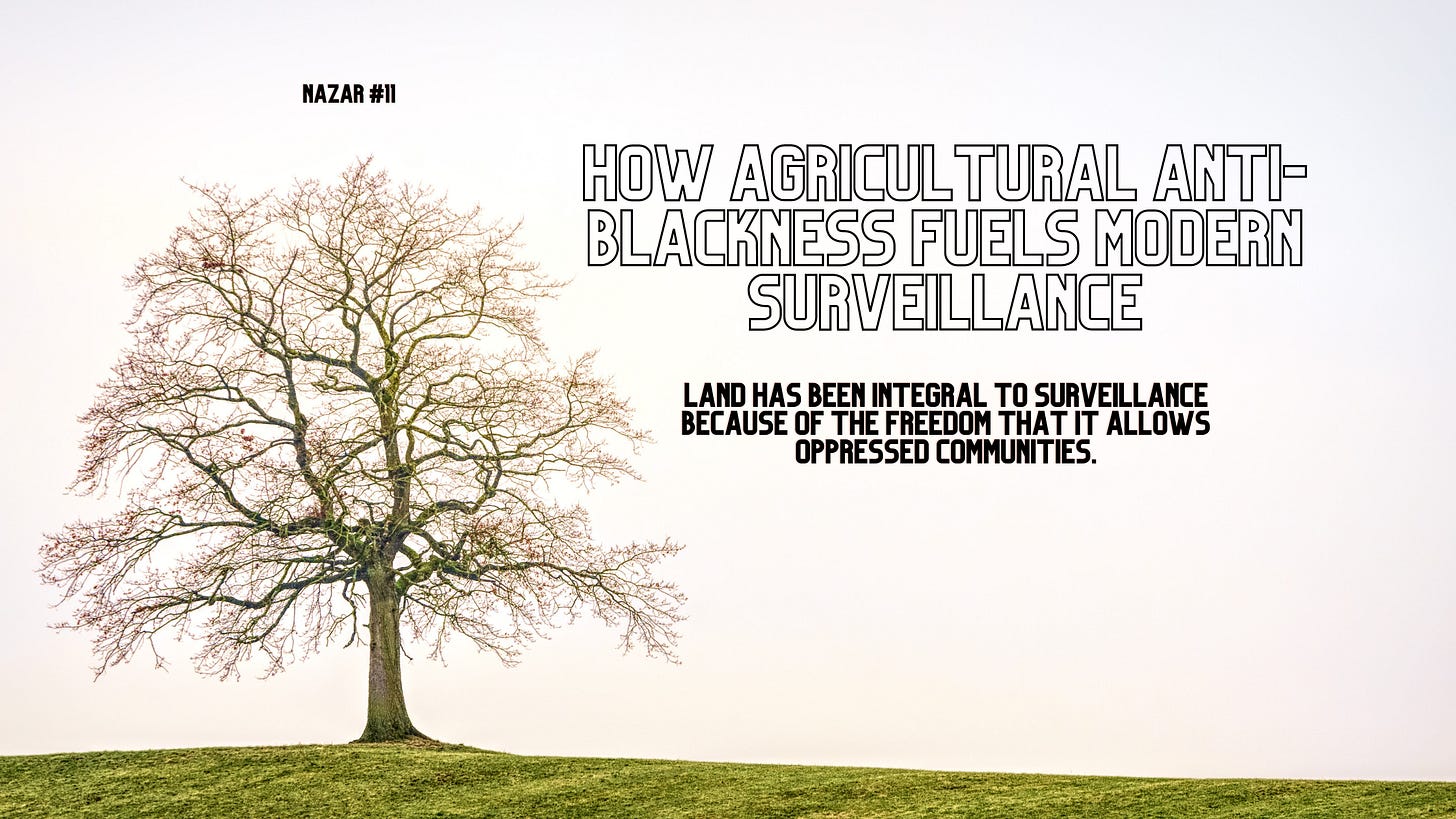 📝 Monthly Round-Up
The Feds Are Watching: A History of Resisting Anti-Black Surveillance, Simone Browne — Part of the Abolition for the People series, this article discusses how Black communities' "inventive ways of working within the existing infrastructure to disrupt the systems that were meant to contain, objectify, and profit from them." Cannot recommend it enough!
Breonna Taylor, Memes, Black Pain, and the Fight for the Personhood of Black Women, Danielle Honoré —  Conversations about Breonna Taylor's memeification have been ongoing since her death. Today, I wanted to highlight this article by Honoré which connects Taylor's memeification back to other instances of harm against Black women.
Discriminatory Data, Edna Bonhomme — I enjoy reading reviews regardless of whether I've read the text it's reviewing. So, wanted to nudge forward Bonhomme's review of Ruha Benjamin's Race after Technology. Even if you haven't read Benjamin's book, this is a particularly useful review.
---
Often, conversations around surveillance become trapped within its digital manifestations. In this guest article for NAZAR, Sana Aslam dives into how the United States has surveilled Black communities through land.
On September 10, RailroadedUnderground, an anonymous Twitter run by an incarcerated person via a contraband cell phone, tweeted, "It is very rare to receive fresh vegetables in prison. So what we do is plant 'secret gardens' around the prison. Along a baseball diamond fence. Small batches of mint or peppers. If found the officers uprooted them & destroyed it. We just replant." While a straightforward tweet, it illuminates a darker reality. Disallowed both phones and vegetables, America's incarcerated individuals — who are disproportionately Black — experience some of the most dehumanizing surveillance in this country. Accordingly, officers who destroy secret gardens and prisoners who replant them tell a complex story of land's ties to surveillance. 
In Golden Gulag, Ruth Wilson Gilmore writes that prisons' marginality are a "trick of perspective [because] edges are also interfaces...they also connect places into relationships with each other and with non contiguous places." Twenty years ago, at the edges of a prison in its imaginary phases, 200 Black farmers from Pembroke Township, located outside of Chicago, protested proposals for a federal jail. Naming themselves the Pembroke Advocates for Truth (PAT), the farmers believed the prison threatened their economic independence and compromised their moral obligations to Black welfare. 
Leader of PAT Pamela Basu told The Militant that, "The lights, sewers, and other waste from the prison alone will have disastrous effects on my crops." The Township's residents were descendants of enslaved Black people who migrated from the south and nurtured an agricultural community. Their doing so destabilized power and order in the area. While the Pembroke prison was never seen to completion, the State continues to propose building prisons and detention centers in the Township. These proposals surveil Black and brown people, simultaneously transforming what remains of Black land for depositing hazardous chemicals or human life deemed waste. 
Such violence continues historic efforts to sabotage Black land and the livelihood it yields for communities. In Dark Matters: On the Surveillance of Blackness, sociologist and professor Simone Browne argues that "rather than seeing surveillance as something inaugurated by new technologies, to see it as ongoing is to insist that we factor in how racism and anti blackness undergird and sustain the intersecting surveillances of our present order."  Today, studies predict 80 percent of future drone technology will relate to agriculture and companies are rapidly developing surveillance tools to monitor crops. Large farms fear they will run out of low-wage immigrant labor and are investing into these developments. But neither these technologies, nor modern prison complexes, created agricultural surveillance overnight.  
Last year, Van R. Newkirk II reported for The Atlantic on how bureaucracy and white supremacy robbed one million Black farmers of their land in the Delta through loan denials and blackmail. In the 1950s, white business owners, who held monopolies on farm equipment, required Black farmers to put up land as collateral for equipment loans. Farm agencies and banks denied Black people outside loans, forcing Black farmers into entering the collateral agreements. Meanwhile, white farmers in the south also intruded Black homes at night, threatening to murder families who didn't forfeit farmland. 
Physical threats register more immediately as examples of violent surveillance but additional stories illustrate how bribes and loans harmed Black livelihoods. Ten years after PAT, Chicago Church Reverend Al Sampson organized a farmers' market to bring Pembroke produce to urban food deserts. Sampson told the Chicago Reader that in 1960, he and another Black student sat down at a whites-only lunch counter in Raleigh. When they refused to leave, they were arrested. With no money for bail, the young men were told by the judge that a Black farmer could put up his land to free them. 
Land has been integral to surveillance because of the freedom that it allows oppressed communities. In Farming While Black: Soul Fire Farm's Practical Guide to Liberation on the Land, farmer-activist Leah Penniman writes that the U.S. Department of Agriculture's programs, by the 1950s, had been "sharpened into weapons to punish civil rights activity." Black farmers able to keep their land offered space free of surveillance for civil rights activists, even as it made farmers targets for lynch mobs. Penniman explains that there would have been no civil rights movement without Black farmers. With their relative freedom from white bosses, they led disobedience activities and sustained their communities with produce and shelter. Black land loss, then, went in hand with increased subjectivity to surveillance in spaces where Black people had no control. 
Browne argues that refusal of routinized surveillance exists in expressive practices. We find such refusal in those who leveraged their land for civil rights, Penniman's guide—which offers advice for young Black farmers —PAT organizers, incarcerated people's secret gardens, and Black-owned gardens and farms across America. For fellow non-Black people committed to abolishing surveillance, it is imperative to honor these refusals, support Black land wherever we can, and seek to understand how agricultural anti-Blackness fuels our modern surveillance state.  
Sana Aslam is a researcher and educator from Kentucky, currently working with organizers for water justice in Appalachia. She would love to hear from you through email, s.aslam8589@gmail.com, or through Twitter: @bluegrassmango. 
---
📌 Organizing
The School for Black Feminist Politics, Black Women Radicals — This week, Black Women Radicals launched a new political education initiative that includes teach-ins, community conversations, and more. Check it out!
A Year Under the Stars, The Drinking Gourd — Shameless self promotion but TDG, a Black Muslim literary magazine where I serve as founding editor-in-chief, celebrated its one-year anniversary. This Saturday (5-6pm EST), our team will be holding a roundtable discussion to commemorate. Follow the link to register!
Mental Health Resources — I wanted to flag this resource compiled by the Justice for Muslims Collective. These mental health / wellness resources are low-cost or free.